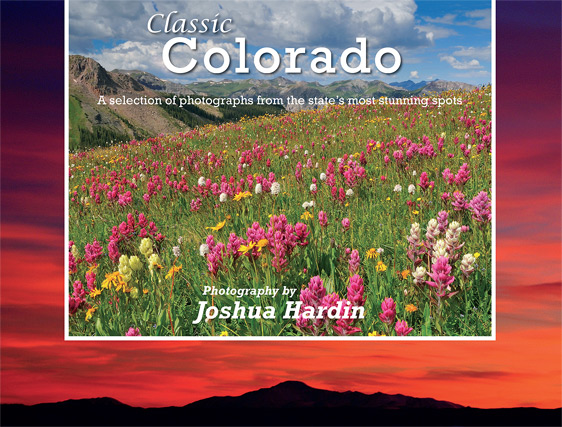 Classic Colorado
A selection of photographs from the state's
most stunning spots
ISBN: 9780615407623
Only $14.95
Softcover • 8˝" x 11"
80 pages • 80+ photographs
Take a tour to some of Colorado's most spectacular natural landscapes and see some of its most amazing wildlife in this sample of images from the collection of acclaimed resident photographer Joshua Hardin. From the majestic Maroon Bells to the gorgeous Garden of the Gods, this book encompasses the mountain, prairie and desert views that comprise "Classic Colorado" and is sure to please any enthusiast of the Centennial State. The 2,010 copies of the first printing will be personally signed in archival gold metallic ink. Order your copy today!
FREE SHIPPING! For any quantity of books ordered. All copies are in stock and usually ship within two business days.
To order, click on the Add to Cart button below:


Our payments are managed by a secure PayPal online shopping cart. A PayPal account is not required to purchase from our site.

We accept all major credit cards, eChecks and other forms of payment.
Contact us for more details.

---
Copies of "Classic Colorado" are currently listed on: Amazon.com.
The book is also available in these store locations:
Tattered Cover Bookstore
Historic LoDo Store
1628 16th Street at Wynkoop in Denver.
The Bookworm
295 Main Street C101, Edwards, CO 81632

---
To see sample pages from "Classic Colorado" click on an image:
To see a complete gallery of images included in the book visit our Facebook page here.
---
"Classic Colorado" in the media:
Loveland Reporter-Herald Outpost Section
Fort Collins Coloradoan's Outdoor Adventure Gift Guide
Letter from Colorado Governor John Hickenlooper