ABOUT OUR PRINTS

We are proud to offer fine art prints of several images on this site. To order, visit one of our image galleries and click on a thumbnail image to view a larger preview. On the preview page there will be a variety of ordering options under the photograph's description. Choose the desired print size, choose the finish and click the "add to cart" button. You may continue adding several different photographs to your cart using this method. When you are ready to check out click the "view cart" button at the bottom of the ordering options on any preview page to see the contents of your shopping cart on our secure PayPal site. Follow the instructions on the PayPal page to enter your shipping address and billing information to complete your transaction. A PayPal account is not required to buy from this site, all you need is your credit card. If you wish to order prints but need to pay by check or another method please contact us to make arrangements to do so.
Our images are currently printed on Fuji Crystal Archive paper and are available in either glossy or matte finish. Due to the differences in monitor calibrations, the color of your prints may not be exactly as they appear on your monitor. Rest assured, the color of our prints is excellent and we are confident you will be pleased with the results. All of our prints are personally signed by the artist in metallic silver archival ink.
We offer a wide variety of print sizes as listed below on our price list. A few of the prints available on the website have been cropped to sizes that do not adhere to the normal print sizes listed below. If this is the case with an image you have ordered we will contact you to make sure the cropping to the desired size is to your liking or if a custom print size will be required. We will not print these images without your response.

PRICES
| | |
| --- | --- |
| Print Size | Price |
| 5x7 | $11.95 |
| 8x12 (8x10) | $24.95 |
| 11x16 (11x14) | $44.95 |
| 12x18 | $54.95 |
| 16x24 (16x20) | $74.95 |
| 20x30 | $149.95 |
| 24x36 | $199.95 |
If you are interested in prints larger than the ones listed above please contact us with your request. Some images on this site may not be available in certain sizes.

SPECIAL MATTED & FRAMED PRINTS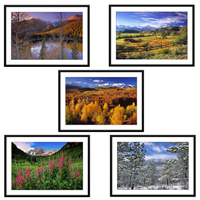 Occasionally, we offer special packages of matted and framed prints from selected groups of images. We offer these packages only in groups of five, ten or twenty. The prints are coated with a UV-resistant Sureguard archival matte finish, mounted to a 1/8 inch foamboard, surrounded with a white mat and framed with a quality semigloss black wood frame. Prints are protected with a non-glare acrylic plexiglass. We do not use glass. Matting and framing is only available with our special packages. We do not offer matting and framing with individual prints. Please contact us for more info.

SHIPPING

Our prints are shipped for free in the United States. We use USPS Priority Mail for prints. UPS or other vendors may be used for special matted and framed print packages. Delivery confirmation is available on request. Extra insurance is the responsibility of the buyer. We will ship to other countries if extra shipping costs and customs are paid by the buyer. Please email JoshHardin@viewfindermedia.com if interested in ordering prints from outside of the United States.
Each print is custom made to order (we do not have a print inventory). Because of this most orders ship within seven business days. Special matted and framed packages may take up to three weeks to ship. Shipping waits may vary at different times of the year so contact us first if interested in making an order.

QUALITY GUARANTEE

If you are unsatisfied with our prints for any reason you may return them (return shipping is at buyer's expense) within one week. Returned images must be in new condition. If you receive a print that has been damaged in shipping (a very rare occurrence) send it back and we will replace it with the same image at no cost.
We will not replace prints that have been damaged due to the neglect of the buyer. We recommend that prints are stored in a dry place away from direct sunlight. To insure the longest life possible for prints be sure to take them to your local frame shop for matting and framing or order one of our special matted and framed print packages.