Images You'll Fall In Love With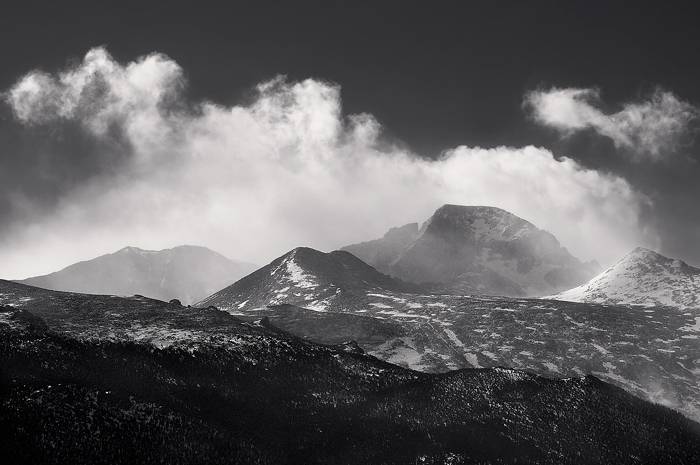 Even the best laid plans don't always work out. I traveled to Rocky Mountain National Park earlier this month with the idea of getting some abstract pictures of the ice formations that form on the alpine lakes there. After arriving I found that even though it had been several days since the last storm a layer of snow still covered the lakes. Not much ice was visible. To make matters worse, high winds were raging along the Continental Divide and made setting up a tripod to steady a camera nearly impossible. Time for Plan B. I drove to one of the overlooks above Beaver Meadows where conditions were calmer and I could take advantage of the sweeping view of the mountains. From there I watched the wind create ever-changing patterns of blowing snow that resembled billowing clouds. This was one of the photos I took. Converting the image to black and white later in Photoshop helped emphasize the curves of the blowing snow clouds circling the summit of Longs Peak. This photo exists only because I refused to give up on the visit to the park even though the conditions I had hoped for didn't materialize.

---
Order "Classic Colorado" Today!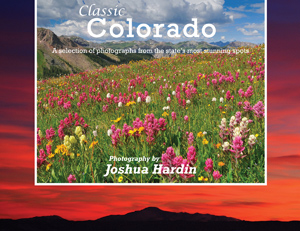 Copies of Josh's book "Classic Colorado" are now in stock and ready to ship. If you need a gift for someone special or a colorful, eye-catching centerpiece for a coffee table, this book containing pictures of Colorado's spectacular natural landscapes and amazing wildlife is sure to please any Centennial State enthusiast.
From the majestic Maroon Bells to the gorgeous Garden of the Gods, this sample of images encompasses the wide range of mountain, prairie and desert views that comprise "Classic Colorado." The 2,010 copies of the first printing are signed in archival metallic ink and individually numbered. Order "Classic Colorado" and spread the word to all of your friends!


Click the button link above to learn more, see sample pages from the book and order!


Our payments are managed by a secure PayPal online shopping cart. A PayPal account is not required to purchase from our site, we accept all major credit cards. Contact us for other forms of payment.
C
opies are in stock and usually ship within two business days.

You may also now browse and order from the "Classic Colorado" listing on Amazon.com.
---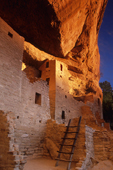 Your guide to Mesa Verde National Park
Read this guide to planning your trip to Colorado's Mesa Verde: the first national park dedicated to preserving the dwellings of an ancient civilization. The guide includes photography tips and suggestions of hiking tours as well as roadside views to explore ruins on both the Chapin and Wetherill Mesas. Stay tuned for more location guides coming to the website later this year!
Remember to browse the Viewfinder Media galleries which are filled with hundreds of images of the Rocky Mountains, American Southwest and more. Photos are available as fine art prints.
---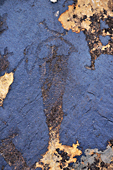 Miss a copy of the newsletter?
If you have not seen past issues of the monthly newsletter, links to all of them are available on the Newsletter Sign Up page. Feel free to forward links to friends and encourage others to sign up for email delivery. Newsletters are sent only once per month and are completely free!
You can also connect to Viewfinder Media through Facebook, Twitter or LinkedIn. Visit us to see Josh's photo uploads right after they are taken and get information on special product sales. Be sure to click on the like or follow buttons to keep up with the latest news.